Artist Trading Cards Birthday Party
$150.00 – $200.00
Units Sold: 0
Are you wondering how to celebrate your young artist's birthday party while still maintaining safe distancing?  Our Artist Trading Cards birthday party may be just the answer!
Artist Trading Cards (A.T.C's) are miniature works of art measuring 2.5" x 3.5". They are created using varied materials, and a multitude of art techniques. They became an art form in the late 1990's introduced by Swedish artist M. Vänçi Stirnemann. They appeal to all ages, and are collected and traded throughout the world. I have been teaching the art of A.T.C's since 1999 to both children and adults. Student ages have ranged from 5 – 85 years of age (sometimes in the same group!) Artist Trading Cards are meant to be collected, shared and traded. In this time of socially distancing it is a perfect art form for helping children, and adults maintain contact with family and friends!
The birthday host will receive a collector's binder/ two (2)protector sheets/ 18 blank trading cards, materials to create their special birthday trading card/s, and a unique card created especially for them by Ms. Elaine.
Guests will receive one (1) protector sheet, nine (9) blank trading cards and materials to create the special birthday trading cards.
Select an hour or 1½ hour option for up to 6 guests.  Please allow at least 10 days notice to give us chance to set up.
Required Supplies: Basic art kit ( scissors, crayons, colored pencils, glue stick, markers, clear tape)
Instructor: Elaine D Woodhouse, Cert.Ed, CQSW
Day of Week: By arrangement
Grade: 1-5
Conferencing Format: Zoom
You will need access to a device running Zoom conferencing software to access video and voice communication.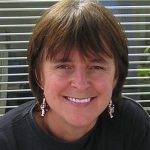 Originally from England, Elaine trained in Early Childhood Education, and Fine and Applied Art, before moving to the United States in 1982. Since then she has acquired over 20 years of teaching experience, including several years in the Head Start Program. The majority of her experience however has been providing after school art enrichment classes at Seattle Public Schools.
She has also been retained as an Artist in Residence,
Elaine's interest in folk art led to authoring a book on metal repujado, and several television appearances. She is responsible for developing and popularizing metal embossing techniques and products in the crafting industry.
Elaine has also received certification as a social worker, specializing in child care. Most recently she completed training as a sign language interpreter.
"Traditionally, folk art was created by people who did not even have a word for art in their culture. Art was simply what people did. It was a part of being human. My classes foster this philosophy in a contemporary setting. Folk art often has a practical purpose or meets a specific need. Many of my classes utilize found objects and recycling, reflecting our society's need to conserve and repurpose"