Artist Trading Cards Club with Elaine Woodhouse
In this class students will have the opportunity to use a vast variety of materials and art techniques to make their miniature art.
Registration closed
Inspired by the Swedish Artist Vanci Stirnemann, who envisaged the concept of Artist Trading Cards (ATC's), students will create "miniature works of art" in a 2-1/2" x 3-1/2" format.  They can choose to collect their work in a binder provided to them, share it with friends, or trade with fellow artists.
Virtually any art/craft technique or material can be used to make ATC's. Students will paint, weave, cut, fold and sew as many cards as they can imagine during class time.  Each week they will be presented with a sample card for inspiration, but they are encouraged to follow their own creativity, preference and interests.
Elaine Woodhouse has been offering Artist Trading Cards Clubs as afterschool enrichment classes for many years at Bryant Elementary school, and other Seattle public schools.  Students have shared and traded cards between schools and even shared a project with children in Guatemala.
Due to an emphasis on process and the individual exploration of materials and subject matter, repeat students are welcomed and encouraged.  Session content varies so projects will be fresh to both new and returning students!

Instructor: Elaine D Woodhouse, Cert.Ed, CQSW
Day of Week: Tuesdays
Time: 2:30 pm to 3:30 pm
Dates of classes: 4/25, 5/2, 5/9, 5/15, 5/23, 5/30, 6/6, 6/13, 6/20, 6/27 – 10 classes
Location: Room 102
Grades: K-5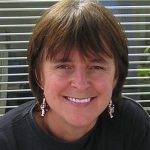 Originally from England, Elaine trained in Early Childhood Education, and Fine and Applied Art, before moving to the United States in 1982. Since then she has acquired over 20 years of teaching experience, including several years in the Head Start Program. The majority of her experience however has been providing after school art enrichment classes at Seattle Public Schools.
She has also been retained as an Artist in Residence,
Elaine's interest in folk art led to authoring a book on metal repujado, and several television appearances. She is responsible for developing and popularizing metal embossing techniques and products in the crafting industry.
Elaine has also received certification as a social worker, specializing in child care. Most recently she completed training as a sign language interpreter.
"Traditionally, folk art was created by people who did not even have a word for art in their culture. Art was simply what people did. It was a part of being human. My classes foster this philosophy in a contemporary setting. Folk art often has a practical purpose or meets a specific need. Many of my classes utilize found objects and recycling, reflecting our society's need to conserve and repurpose"